Super soft fabric:

 The super soft cotton blend fabric is light and breathable, making it perfect for those hot days when she still wants to play outside in the sun. It also gives the toddler jumpsuit a lot of movement, which is exactly what an active toddler girl needs.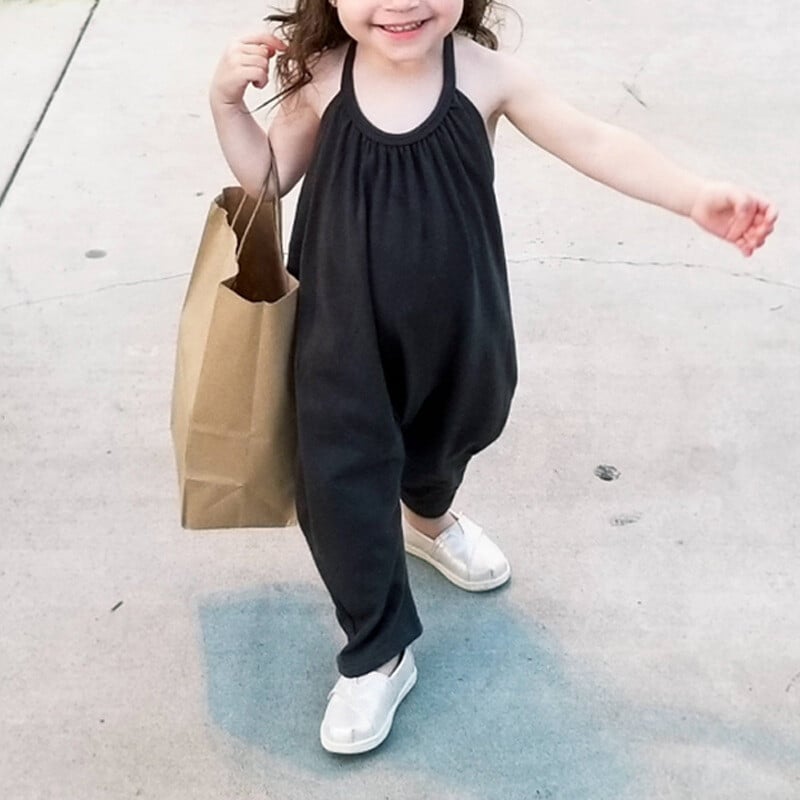 Spaghetti straps: 

It features convenient spaghetti straps that tie around the neck to hold the top in place, making the outfit look elegant and chic.
Open back: 

These outfits for toddler girls feature a generous open back, which is always a welcome feature when it gets hot out. The open back makes the jumpsuits perfect for playing outside in the heat or chilling with friends in a gentle breeze.
Pockets:

 Like all great girl clothes, your little one's needs have been considered in the design of this toddler jumpsuit. It features convenient pockets that she can use to store her trinkets in the course of her adventures, making her play sessions even more fun.
Well-made:

 Toddler clothes need to be able to withstand a lot of wear and tear. This toddler jumpsuit is no different. It is well made enough to withstand your little one's activity, as well as the multiple washes that inevitably follow. This means your toddler girl will be able to get a lot of use out of it.

SIZE CHART
Toddler Sizing
| | | | |
| --- | --- | --- | --- |
| Size (cm) | Length | Bust | Hips |
| 80 | 58 | 45 | 40 |
| 90 | 60 | 46.5 | 41.5 |
| 100 | 62 | 48 | 43 |
| 110 | 64 | 49.5 | 44.5 |
| 120 | 66 | 51 | 46 |
| 130 | 68 | 52.5 | 47.5 |
| 140 | 70 | 54 | 49 |