"This device is getting alot of use in our household. It has helped with various skin issues and my recovery from ACL replacement/meniscus repair surgery as well. My sister used it on bulging & sore veins (she has been undergoing a type of IV infusion treatment) and got immediate relief (she ended getting one of her own). Wonderful!"
⭐️⭐️⭐️⭐️⭐️ – Lisa A. Patterson
✅ Verified Buyer
Traditional massage, heat, and medicinal therapies to address long-term pain are often presented as the only solution. Unfortunately, these solutions can be short-lived and, in many cases, ineffective at getting to the root of the issue. The persistent impact of pain that isn't effectively managed makes daily tasks unbearable and reduces quality of life.
The Q-Light Therapy Wand™ features red and infrared light spectrums that stimulate mitochondria, the body's cellular "power plants." This causes more energy to be produced within these cells, which can boost healing and speed up recovery from many types of damage. Experience the freedom and joy of a pain-free life through accelerated recovery.
REASONS WHY THE Q-LIGHT THERAPY WAND WILL CHANGE YOUR LIFE
✅ ACCELERATED HEALING: Using deep red and infrared light, the Q-Light Therapy Wand™ boosts energy production in cells which then accelerates healing. Enjoy the benefits of rapid recovery through stimulation of the body's natural healing response.
✅ MULTI-USE: This incredible device uses technology developed by NASA to promote healing for a significant number of ailments. The Q-Light Therapy Wand™ optimizes skin health, manages muscle and joint pain, reduces inflammation, and much more.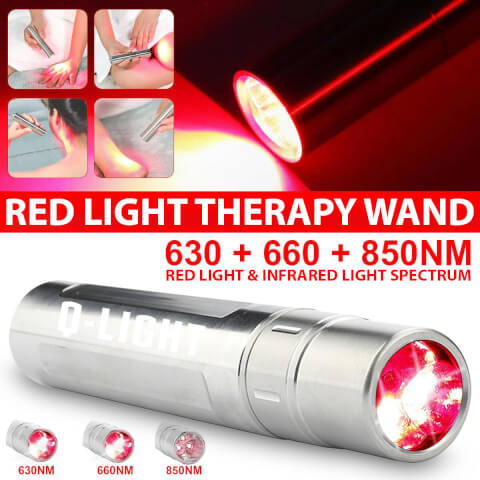 ✅ PET-FRIENDLY: This healthcare tool is also safe and effective to use on dogs, cats, and other domesticated animals. Whether accident or age-related, the Q-Light Therapy Wand™ helps save on vet bills and brings precious pets the comfort they need.
✅ EASY TO USE AND PORTABLE: Lightweight and compact, the Q-Light Therapy Wand™ features USB charging and automatic shut off after 5 minutes. Activate and point this innovative device at the affected area and enjoy a non-invasive aid to healing.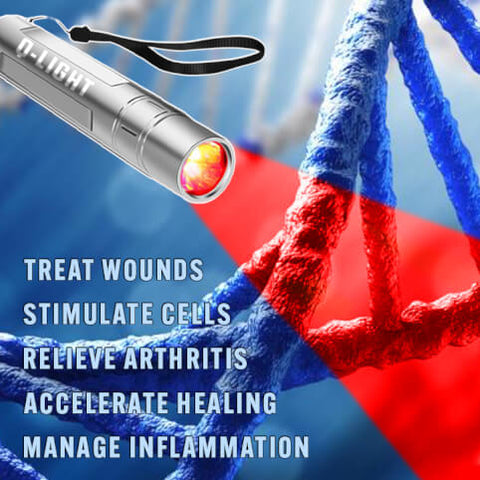 ✅ DURABLE AND LONG-LASTING: The Q-Light Therapy Wand™ boasts LED chips with a 50,000-hour life span, a 303 stainless steel casing, and hardened optical glass. Designed to last, this cutting-edge medical device will provide years of service.
HOW TO USE
Charge the device using the included USB charging cable.
Activate the device by depressing the power button.
Point the lit device at the affected area & hold it up to an inch away from the skin.
The device will power off after 5 minutes. For further therapy in a different area, restart the process.
Daily use of 5 minutes per affected area is recommended to achieve the best results.
We understand how distracting it can be when we are not 100% pain-free in our bodies, whether going about our day or settling down for the night. When discomfort becomes overwhelming, even the simplest tasks become frustrating and distressing. According to a recent study, between 10% and 30% of all adults suffer from chronic pain, and over half a trillion dollars are spent on its related costs annually.
With the Q-Light Therapy Wand, take a deep breath and sigh with relief to have a non-invasive and cost-effective route to pain management. Powerful LED chips emit specific red and infrared light frequencies that penetrate the skin and promote deep cellular recovery. Enjoy the newfound confidence and focus that come with effective pain management and accelerated healing.

PRODUCT SPECIFICATIONS
Length: 5.5 in
Width: 0.83 in
Weight: 0.45 kg
Red Light Spectrum: 630nm, 660nm (visible light) & 850nm (infrared / not visible)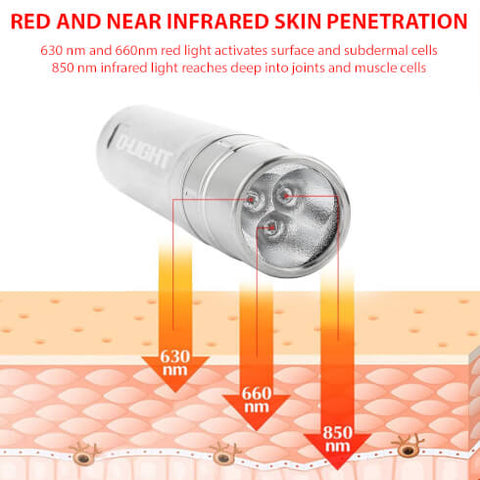 PACKAGE INCLUDES
(1) x Q-Light Therapy Wand
(1) x Lanyard
(1) x Carrying Case
(1) x USB Charging Cable
A Harmony Coast Promise
At Harmony Coast, we believe in the quality of our products; therefore, we offer a 30-Day Money Back Guarantee with no questions asked! When you purchase from us, there is ZERO Risk for you!
Congratulations!
You've found a hidden discount code! Use code "10OFF" at checkout to claim an additional 10% OFF your ENTIRE order!
Customer Support:
Email: [email protected]
Phone: 1 (800) 770-6132